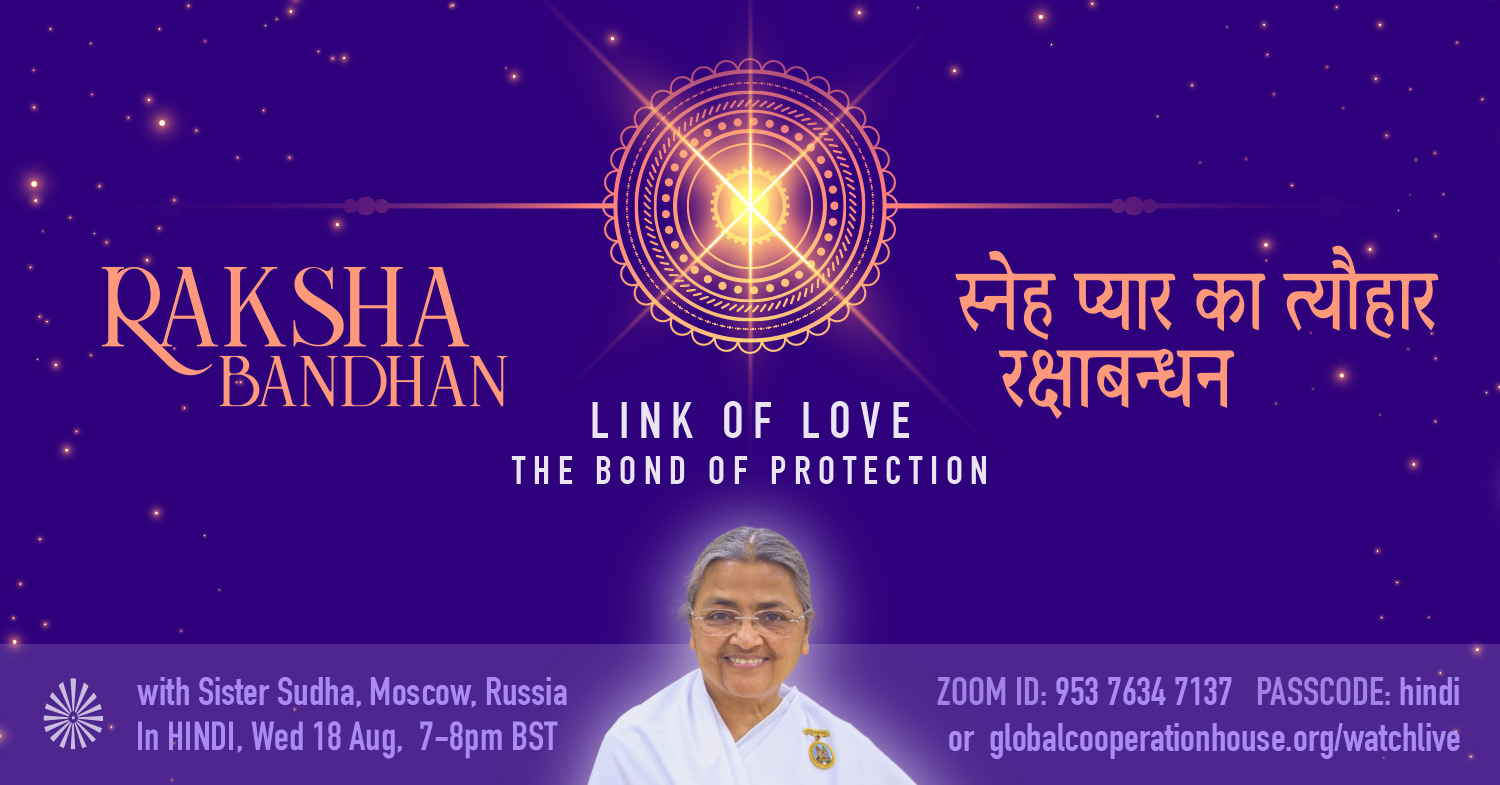 'Raksha' means protection and Raksha Bandhan signifies that the strong protects the weak from all that is negative. In India, during this festival, sisters traditionally tie a rakhi in the form of a sacred thread around the wrist of their brothers. For the Brahma Kumaris, this festival and its tying of the rakhi, represents an even deeper and more ancient truth whereby we understand that this bond of pure love and protection is between God and each of us.
For self-protection, tie the bond of love and purity. At this time it is necessary for all of us to tie this bond with God. And God's love becomes our connection with all the souls of the world as our brothers and sisters. Remind yourself to always have an elevated attitude and vision for everyone. This will uplift you and inspire others to change as well. Now is the time to remain in God's loving remembrance. Together, let's celebrate this Raksha Bandhan by having firm determination to always be light and happy.
Speaker : Sudha Didi, Moscow, Russia
General Director of the Interregional Social Organization for the Promotion of Unity of Civilizations, Cultures and Religions "The Centre of Spiritual Development".
Sudha Didi, born in Delhi in 1953, post-graduated in Natural Science and graduated in Pedagogy at the University of Delhi. Along with her secular education she continued spiritual studies also at Brahma Kumaris World Spiritual University from the young age of 15. In 1976 Sudha Didi dedicated herself to the noble goal of serving humanity and in 1989 arrived in Moscow on the official invitation of the Department of Physical Culture and Sport, USSR Ministry of Health.
The knowledge of Raja Yoga and the practical methods aroused so much interest among the listeners that soon the first Educational Centre was opened in Moscow, under her leadership.
Sudha Didi promoted the opening of Raja Yoga centers in the cities of Russia - Belarus, Ukraine, Moldova, Kazakhstan, Kyrgyzstan, Tajikistan, the Baltic countries and Mongolia. She is an Honorary Joint Regional Coordinator of Brahma Kumaris Centres in Russia and neighbouring countries.
Sudha Didi has been received many awards, including the Badge of Labor Valor from the All-Russian Public Organization of Heroes, Cavaliers of State Awards and Laureates of State Prizes "Labor Valor of Russia", which she received in 2019
As a senior lecturer Sudah Didi regularly makes presentations at international conferences on the subject of spiritual and moral values and a healthy lifestyle.
She generously shares the treasures of practical wisdom and her spiritual experience with selfless dedication.